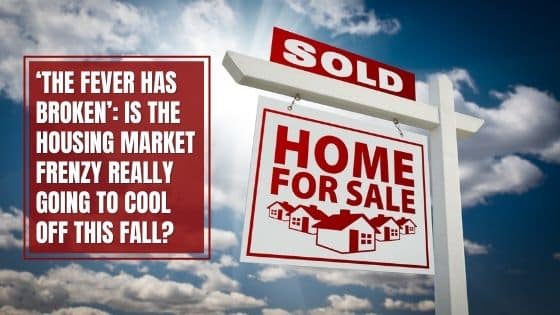 Over the next few weeks and months, the long-overheated U.S. housing market is expected to continue to cool off in the bracing chill of autumn.
After a wild year of unprecedented price increases, a worsening shortage of homes for sale, and cutthroat bidding wars where offers six figures over the ask price weren't uncommon, conditions are finally normalizing. More homes are expected to go up for sale this season just as many would-be buyers are either priced out or so fed up after losing out on home after home that they're dropping out of the running.
"The fever in the housing market has broken," says Ali Wolf, chief economist of building consultancy Zonda. "There have been buyers that have just been beat down for the last six months—and after losing so many homes and going through the emotional roller coaster, they've decided to stop searching for now. There are more homes on the market than there were six months ago."
During the COVID-19 pandemic, record-low mortgage interest rates, below 3%, helped many homebuyers to absorb prices that reached all-time highs in the spring and summer. But prices rose so high so quickly that even bargain mortgage rates couldn't offset them enough to give buyers some needed financial relief.
With more folks sidelined, some of the steam has been let out of the market. Prices aren't rising by as much as competition is down and homes are taking a little longer to sell, giving buyers some breathing room.
In September, the rate of year-over-year growth was halved, to 8.6%, down from its peak of 17.2% in April, according to Realtor.com® data. This means the median list price of a home grew half as fast as in the spring. Homes also took a bit longer to sell, at about 43 days. While that's down 11 days from the same month last year and 22 days from 2019, it's up 6 days from June.
"Things are settling down. There will still be some multiple offers, but it will be less tense," says Lawrence Yun, chief economist of the National Association of Realtors®. He expects the days of homes receiving 20 to 30 offers are becoming a thing of the past. "And some homes are lingering on the market for a week or two without an offer."
This fall, buyers may once again be able to include contingencies in their offers, such as requiring home inspections and appraisals, and still win out bidding wars. They may even—gasp—get homes at the list price.
All-cash offers could also dip if buyers don't need to cash out their savings, stocks, and cryptocurrency stashes to stand out from the competition.
"It's not like the market is soft," says Yun. "It's just moving away from that extreme frenzy."
The changes in the housing market may be coinciding with the seasonal slowdown. Typically, competition is fierce in the summer as families battle over larger homes in the suburbs, hoping to secure residences and settle in before the kids start school. Then the market slows down with less competition for the smaller homes that traditionally go up for sale.
Yun expects annual price increases will slow to a more normal level, around 5%, versus the double-digit price hikes that reigned earlier in the year. But this may not be true for every home in every part of the country.
"If you want a reasonably priced home in a desirable area, be ready to still face stiff competition," says Zonda's Wolf.
Will home prices fall?
The question on the minds of sellers, buyers, homeowners, and just about everyone else is whether prices might actually fall. Sorry, buyers, that likely won't happen anytime soon.
The nation is still suffering from a severe housing shortage resulting in more buyers than there are abodes for sale. This is a continuing hangover from the Great Recession's aftermath, when builders largely held off on building while investors bought up single-family homes and turned them into rentals. Meanwhile, the millennial generation is larger than the previous one, meaning there are more prospective buyers than there were a decade or so ago.
There's plenty of pent-up demand for homes.
"You've still got a lot of young people who have still not bought a home but who would like to," says Realtor.com Chief Economist Danielle Hale. "Anytime the market starts to cool, you've got people on the sidelines waiting for their chance to get in. That keeps both home sales and home prices from declining too much."
She expects more homes to hit the market in October and through the end of the year. But it won't be enough to ameliorate the problem of demand.
The nation is still short about 5 million homes, Hale says. As builders can't get them up fast enough, she expects it will take between five and six years before there are enough homes for sale to meet demand.
New construction is beginning to pick up after months of builders contending with shortages in lumber, labor, materials, and appliances. While there are still delays compared with before the pandemic, there was about a 5% uptick in construction in August compared with July, says Zonda's Wolf.
"Inventory is still very, very tight," says Wolf. But "we're up from the bottom. We expect to see a little more inventory trickle onto the market through the end of this year and into next year."
Rising mortgage rates will likely keep high prices under control
Rising mortgage interest rates are expected to keep price growth in check: After all, buyers can afford to fork over only so much for their monthly housing payments. So if rates rise, buyers won't be able to afford more expensive properties.
This could result in lower price growth, or prices going flat or even dipping a little in certain markets.
"Once mortgage rates push up a little bit, it's going to combine with higher home prices to price people out of the market," says Mark Zandi, chief economist of Moody's Analytics. "Some markets could see prices go down a little, like in the most juiced markets. … [But] it's not a crash."
Rates are expected to top 3% by the end of the year and reach 4% by the end of 2022, says Joel Kan, an economist at the Mortgage Bankers Association. They averaged 2.88% for a 30-year fixed-rate loan in the week ending Sept. 23, according to the most recent Freddie Mac data.
Historically speaking, even 4% is still low. Over the past 20 years, mortgage rates averaged about 5%, according to MBA. The difference between a 3% and a 4% rate on a $380,000 home (the median list price nationally) was about $169 a month on a 30-year fixed-rate loan. That adds up to nearly $61,000 over the life of the loan.
"We're expecting rates to increase moderately over the next 12 months," says Kan. "As the economy improves, as the job market improves, typically that pushes rates higher. [But] there is a little bit more uncertainty now, given that we've seen the pandemic linger longer than we expected."
How will the fall market affect home sellers?
While experts predict the housing market will remain firmly in the seller's court, the days of picking prices out of thin air are likely coming to an end. The same goes for not making any improvements to a property (let alone having it properly cleaned) before listing it.
"Some sellers got a little too greedy or had a misconception about the market conditions," says NAR's Yun.
Zonda's Wolf recommends sellers look at comps of other homes in their neighborhoods that have recently sold to get a realistic idea of what they can charge for their properties. They should also get their homes in tiptop shape. And while they may not get 20 offers like their neighbors may have received a few months ago, well-priced, move-in ready homes are in high demand.
"If you're a seller today, you'll likely still get top dollar, but you're still going to have to put in the work," adds Wolf. "Dust for cobwebs, stage the home, put on a fresh coat of paint."
Article is contributed from Realtor.com
Share