Cassity Kmetzsch | Wealth of Geeks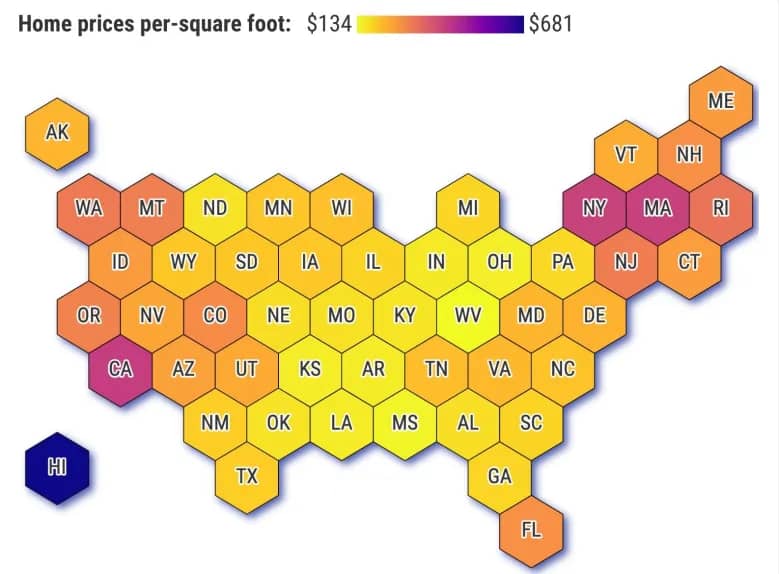 A recent study by PortlandRealEstate.com reveals the staggering home-price disparities across the United States.
looking at the average cost per square foot of property in each state, it's clear paradise comes at a high cost.
Hawaii is at the top of the list, where homebuyers would need to shell out a jaw-dropping $694 per square foot. Next was California at $426, then Massachusetts ($417), New York ($416), and Rhode Island ($326). The bargains, by this math, are found in West Virginia ($134 per square foot), Mississippi ($142), and Ohio at ($148).
While living in these prime locations obviously has a lot of benefits, can the price savings and community of a more affordable state outweigh these advantages?
"When looking for a new home, there are many things to consider, the local area, distance to loved ones, work opportunities, and more. However, the size of a home may be one of the most important factors, especially considering more people are working remotely," the report stated.
As real estate prices soar in some states, many potential homebuyers are exploring alternative locations that offer better value for their hard-earned money. With the freedom to relocate jobs to states where the cost per square foot of property is more budget-friendly without sacrificing their career prospects, what would stop you?
Mikkel Woodruff, co-founder of Sometimes Home, shares, "My husband and I work remotely, so we have complete flexibility for our real estate searches. We're currently considering two locations to buy our first home: Raleigh and Orlando. The fact of the matter is that the square footage in Central Florida is much more affordable for us than in Raleigh when comparing the precise desirable locations within each city we are considering living in. This is a huge factor for our home search when considering our budget. If the reality is that the price per square foot makes homeownership a reality in one location over the other, that location will win in the end."
States like New Hampshire ($278 per square foot), Florida ($278), Idaho ($263), and Maine ($262), present popular opportunities to secure more space at a lower cost.
More companies are embracing flexible work arrangements or the option of self-employment online. Employees can live where they desire without being confined to costly urban hubs.  Remote work enables individuals to consider moving to states with more affordable property costs.
Jonathan Lansner of the Southern California News Group added to this report.
Article is contributed from ocregister.com
Share